What To Look For When Buying Ski Bags
You need special ski bags to protect your skiing equipment when travelling, whether by car or plane. This article explores what to have in mind when buying ski luggage.
Size And Fit
Your skis must fit in the ski bag so the first thing to do is to measure your skis. You may find the measurements at the top of your skis or snowboard.
Single Or Double
Ski equipment bags are either single (one pair of skis) or double (two pairs of skis). Many skiers use double bags for one pair of skis, they use the extra space for other ski gear and personal belongings.
Carrying fewer luggage items is always good idea and if you are smart packer, you might be able to fit full weeks skiing gear inside your double ski bag.
Soft Or Hard Case
Ski equipment bags are either made of soft or hard case and there are different pros and cons to each type.
Soft case ski bags are more flexible and as such are easier to maneuver in tight spaces, e.g. to fit into a car trunk. They offer more storage space for other belongings, as easier to stuff them than hard ski equipment bags.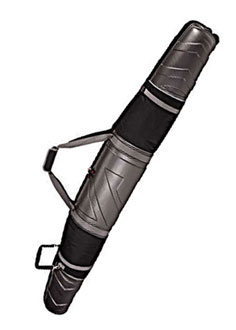 Soft bags tend to be cheaper than hard-sided ski cases though you can expect to pay similar price for the top quality ski bags. The most expensive soft bags have molded plastic ends and middle for increased protection.
Fully padded soft bags are well suitable for air travel though some airlines accept no liability unless you are travelling with hard case ski bag.
Hard case ski bags provide the best protection for you ski equipments. Hard ski bag is therefore ideal for those that fly frequently with their skiing gear.
Quality hard ski bag will last you a long time. On the other hand, they are heavier than their soft case counterparts are so you might want your hard ski bag to have wheels.
Hard cases also offer limited storage space (you can't stuff them) and they are rigid, making them less than ideal when space is restricted, e.g. when travelling by car.
Material
Polyethylene plastic is the most popular material in hard ski cases, as it is strong and durable but reasonable lightweight.
The different material used can usually explain the price difference in soft ski bags. The cheapest soft bags are usually made of polyester while the more expensive ones are usually made of durable easy to clean ballistic nylon.
You should check the denier rating if buying nylon ski bag. You should be looking for something in the 500-2,000 denier range. The higher the number is, the thicker the fiber. It means the material is stronger but the bag will be heavier to carry.
The best soft ski bag material is tightly woven fabric with high tread count. The more expensive soft cases tend to have strong molded plastic ends and middle for better protection.
Padding
The more padded your soft ski bag is the better it protects your skiing gear. Therefore, if you are travelling by air you want fully padded ski bag.
The more padded bags are both more expensive and less rigid so if you are travelling by car then less padded ski bag might be better, i.e. easier to fit in any car trunk or ski rack.
Weight
You want your ski bag to be as lightweight as possible. This is particularly important if you cannot wheel your ski bag. Soft bags are commonly between 3 - 10 lbs (1.4 - 4.5 kg) and hard cases between 7 - 14 lbs (3.2 – 6.4 kg).
Wheels
Having wheels on your ski bag is convenient when travelling to and from the airport, and around the skiing resort.
When verifying the quality of luggage wheels check the wheels material (ideally in-line skate wheels), how easy it is to maneuver them, how the wheels are fasten to the luggage case and if the wheels are protected in any way.
Handles And Straps
Ideally, you should be able to carry your ski bag anyway you like, i.e. vertically, horizontally or diagonally. You should be able to carry your ski bag by hand (handle) or over the shoulder (strap).
Even if you can wheel you ski bag you still have to be able to carry it sometimes, e.g. up and down stairs or when lifting it off the luggage carousel.
Look for wide and tightly woven handle / strips, i.e. wide to prevent it to cut into your hands, tight to ensure it lasts for long.
Zipper
Quality zipper is important, as zippers tend to be one of the weakest links where all luggage is concerned. Coil zippers are strong and flexible and commonly used for tents... making them the perfect zipper for ski bags as well.
TSA Approved Lock
Ideally, your ski luggage has TSA approved locks. It allows US airport security staff to open your ski bag without damaging the lock or your bag.
Ski Boot Bag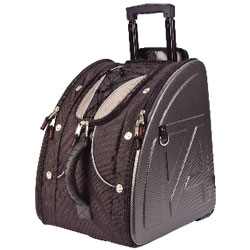 Some ski equipment bags have large external pockets that can hold your ski boots and other ski gear, so called combo ski bags.
Many skiers however prefer to use separate ski boot bag. If you are one of them look for boot bag that can fit in the overhead compartment of an airplane.
Ski boot bags are usually big enough to hold helmet, goggles, gloves and skiing outerwear as well as the ski boots. This means boot bags can be heavy, making wheeled ski boot bag a good idea.
Other Ski Luggage
Most skiers bring daypack on their skiing vacation. It should be big enough for the personal belongings you need for a day on the slope, e.g. refreshments, sun protection, extra clothing layers, etc.
Some skiers use special winter hydration pack to keep them hydrated while on the slopes.
Ski Bag Warranty
Always check the luggage warranty when buying ski bags. Good ski luggage is an investment that should last you for a long time. Quality manufacturers offer warranty on their products, some even up to limited lifetime warranty.