Delsey Luggage
Why One Bag Is Sold Every 10 Seconds
Delsey luggage is one of the best know luggage brand in the world, with one bag sold every ten seconds somewhere in the world... that's lot of bags on annual basis.
There are good reasons for Delsey success. They know their customer, they know what he wants, and they deliver what he wants. So who buys Delsey suitcases and bags?
The Delsey Customer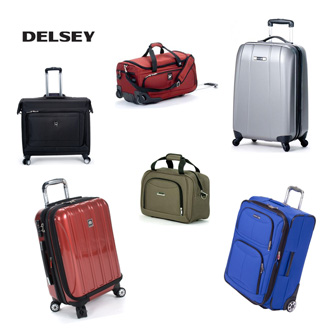 Delsey focus has always been to make luggage that meets the needs of the individual traveler.
Individual travelers tend to put their luggage to the test. They travel frequently, often venture off the beaten track, and they expect a lot from their luggage.
This means they tend to be more concerned about functionality than look. They want a luggage that is lightweight, durable, secure, organized, and versatile.
Don't get us wrong. There is absolutely nothing wrong with how Delsey luggage looks like but the look is not their main selling point.
Delsey luggage may be designed with the individuals' high expectations in mind but the outcome is a piece of luggage that suits most travelers. This is why Delsey sells one bag every 10 seconds.
Delsey Innovation
The Delsey customers' high expectations mean that Delsey has creativity and innovation in their DNA.
Delsey has led the way with many luggage inventions and technical improvements. In 1972 they introduced the first rigid suitcase on wheels, created the "Dual Drive" concept in 1993, i.e. a rolled Delsey suitcase on 2 or 4 wheels, the first fibreglass structure with shape memory in 2008 (patent pending) to name just few Delsey innovations.
This on-going focus on innovation and technical improvements means that Delsey has stayed on top the changes in travelers needs over the decades... and kept their lead in increasingly competitive market place.
Do You Know Where The Name Delsey Comes From?
Mr. Delahaye and the Seynhaeve brothers founded a company in 1946 and it of course got the name Delsey.
Delsey Quality
Delsey is committed to quality and subject their luggage to number of rigorous quality tests.
Delsey wheels are made (and tested) to carry fully loaded bag for over 30 kilometers of abrasive surfaces and obstacles
The shell is tested by dropping fully loaded Delsey suitcase 26 times from one meter above the ground
The shoulder and carry straps are tested by raising and lowering them several thousand times
The zippers are tested by opening and closing them up to 5,000 times, which equals 5 years of normal everyday use
Delsey components and raw material is tested by subjecting them to extreme corrosive and weather conditions. While all fabric has to pass tear resistance tests
Why Buy Delsey Luggage?
The bottom line is that Delsey fulfills the needs of the most demanding independent travelers... which means Delsey fulfills most travelers needs.
Popular Delsey Bags
Amazon offers wide range of Delsey products and their luggage prices are among the best you can find online. For your convenience, we have grouped together the most popular Delsey bag categories.