Pacsafe Smart Travel Gear For Smart Travelers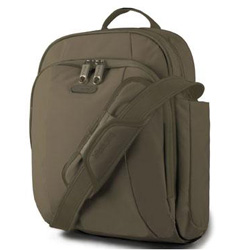 Pacsafe smart travel gear is well known worldwide. Pacsafe mission is to empower their customers to travel with confidence and peace of mind.
Pacsafe is dedicated to creating smart new ways to keep travel gear secure. Their mantra is smart, safe, secure and travel and that's exactly what Pacsafe luggage is all about.
Pacsafe offers wide range of high quality secure luggage and bags, as well as security wallets and antitheft accessories.
What Makes Pacsafe Smart Travel Gear?
Pacsafe bags come with various innovative antitheft and security features to keep your travel gear as safe as possible.
Pacsafe Antitheft Features
Pacsafe is passionate about outsmarting opportunist thieves. Pacsafe bags therefore come with various inbuilt antitheft features, like:
Smart zipper security to outsmart pickpockets
Puncture resistant ToughZip to outsmart opportunist thieves and baggage handlers
Carrysafe slashproof straps to outsmart strap slashers
eXomesh slashguards to outsmart bag slashers
Turn & lock security hook to outsmart bag snatchers
RFID Blocking to outsmart RFID identity theft
But the following video shows it all much better...
Pacsafe is truly a smart and stylish way of outsmarting thieves.
Pacsafe bags may incorporate some or all of above antitheft features. Let us take for example the Pacsafe Venturesafe day and travel bags.

Venturesafe comes with eXomesh cage system, slashproof Carrysafe strap, RFID blocking pocket, turn & lock strap hook and smart zipper security.

Additional practical features may include zippered main compartment, internal padded laptop / tablet compatible sleeve, map printed liner, padded adjustable shoulder straps and sternum strap, molded foam back support, water bottle / umbrella side pockets, hydration pack compartment, key / wallet ring and pen holder.

Smart, safe, secure and stylish… or what?
Pacsafe Smart Travel Accessories
Pacsafe offers various accessories to help you keep your travel gear as safe as possible when travelling.
Like their popular antitheft backpack and bag protector, an adjustable stainless steel looking device that leaves your bag slash-, snatch-, and tamperproof. And the Pacsafe Travelsafe with smart eXomesh cage system and turn & lock strap hook, which is ideal to secure your valuables when on the road, or even at home.
Other popular Pacsafe accessories include TSA approved luggage locks and key-card locks, RFID blocking badge holders and carrysafe slashproof shoulder straps.
Popular Pacsafe Bags And Accessories
Amazon offers wide range of Pacsafe smart travel gear and accessories. These are just few of our favorites.