What Does Luggage Warranty Cover?
It is a good idea to check the manufacturers' luggage warranty before buying any luggage. The covers tend to be similar but the warranty periods can vary greatly. The most common luggage warranties are between 3 to 10 years but some bags come with lifetime warranty.
The luggage retailer may also offer some luggage guarantees, e.g. low price guarantees, no question asked return policy, etc. It is advisable to check this prior to making your purchase.
Important
You usually have to present proof of purchase with store receipt to claim luggage repair under warranty. Always keep the warranty certificate in a safe place and it is good to keep the product tags as well.
Some luggage manufactures also require you to register your warranty with them. Failure to do so may void the warranty.
What Does Luggage Warranty Include?
Luggage warranties usually cover all manufacturing defects (workmanship and materials) but what else is covered can vary, for example:
Is the shipping cost (to and from the repair center) included or not?
Is damage done by your carrier (e.g. airline) covered or not?
Is damage caused by you abusing / mishandling the product covered or not?
Is the warranty only valid for the first purchaser or gift recipient of the product (i.e. cannot be transferred or sold to another owner)?
What Does Luggage Warranty Exclude?
Luggage warranties are not insurance so they never cover lost or stolen luggage. In addition, the luggage manufacturer cannot be held responsible for any damage to the content, loss of time or use, or any other consequential or incidental damages.
Most luggage manufactures require you to use only authorized or official company repair centers, i.e. you cannot take your bag to any luggage repair center.
Always check with the manufacture prior to taking your luggage to be repaired. Improper or incorrectly performed luggage repair or maintenance can void some manufacturers' warranty.
Luggage warranties usually exclude cosmetic wear and tear (including on moving parts like wheels and component parts). They also exclude any cleaning.
Some warranties also exclude any misuse, neglect, abrasion, accidents, exposure to extreme temperatures, solvents, water, acids, transport damage, etc. Always read the small print.
The Luggage Warranty Period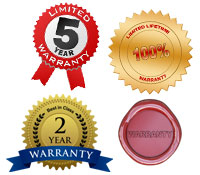 The warranty period varies between luggage manufacturers but they can also vary between products from the same manufacturer.
As said before, the most common luggage warranties are between 3 to 10 years but some manufacturers are so confident about their luggage quality that they offer unlimited or lifetime warranties (some on selected products only).
The rule of thumb is: the higher quality product, the longer the warranty period (and higher the price).
Luggage Warranty Comparison
Always check the manufacturer's warranty before buying your luggage. The covers tend to be similar as you can see in our warranty comparison table, which compares the luggage warranties of some of the best know luggage brands.
Luggage Warranty Comparison Table

Briggs & Riley

All products fall under the Simple as that® lifetime guarantee

Repair all functional aspects of any Briggs & Riley bag for life

Delsey

Any manufacturing defects under the terms and conditions described on the warranty coupon inside the luggage

Don't forget to fill in and date the warranty coupon as it will be asked for should any repairs need to be carried out

Offer Worldwide Limited Lifetime Warranty on specific products

Eagle Creek

Offer from 5 years to No Matter What Warranty

The 5 Year Warranty covers functional damage

The Lifetime Warranty covers workmanship and materials against defect for the entire life of the product

The No Matter What™ Warranty covers the Lifetime Warranty promise plus the added insurance of repair or replacement due to damage, regardless of the cause.

Hartmann

Depends on the product:

The Quality Assurance Guarantee covers any problems resulting from workmanship and/or defective materials

The Absolute Assurance Guarantee covers any and all damages to the product

Samsonite

Warranty duration varies depending on the product line and date of purchase

From 2 years up to limited lifetime warranty

Travelers Choice

Offer limited manufacturer's warranty (from 1 to 10 years)

Travelpro

Covers defects in materials and workmanship from 3 years up to limited lifetime worry free

Victorinox Swiss Army

Covers damage to the product caused by a defect in the workmanship or materials
Remember, luggage warranty is a lot like insurance so always thoroughly read the small print.