Damaged Airline Luggage
Damaged airline luggage is at best inconvenient but at worst can seriously affect your whole travel experience. You can usually replace the damaged luggage piece but it can be more difficult if the content has been damaged as well.
Luggage Damaged By Airline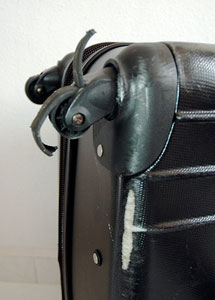 If your bag is damaged by the airline, you must file a luggage damage claim with them and you should do so as soon as possible.
The rules vary between airlines but in the US, you usually have 24 hours to file a claim for domestic flights and 7 days for international flights. This is important, as sometimes the damage is not immediately noticeable. You may though have to return to airport with the damaged bag to file your claim.
Failure to report damaged airline luggage within the time limit releases the airline from any liability. It is therefore recommended to inspect your luggage carefully at the airport so you can file your claim in person before leaving the airport (or at least report the damage).
Most airlines have clear process how to make damaged airline luggage claim but this is an example of a Letter Of Complaint

if needed.
Few practical tips when filing damaged airline luggage claim:


When you buy new luggage keep the receipt in safe place as it may become handy if your luggage is lost or damaged
Always take photo of your bag before checking it in
Know your airline rules about damaged luggage claims prior to flying
Keep your boarding pass stubs and baggage claim ticket in safe place
Inspect your bag carefully when you receive it at your destination airport
If any damage to the bag or its content, take photos of the damage
Some damage may be considered as normal wear and tear, e.g. nicks, dents, tears, scratches and even broken wheels, handles and straps
Airline may also refuse to compensate for damage caused by your failure to pack properly
Report the damage immediately to the airlines baggage handling desk at the airport
Show your boarding pass stubs, baggage claim ticket and your damaged luggage
Fill out your airline luggage damage claim report
Most airlines make payments based on the estimated value of the damaged bag and its content but must airlines have some maximum compensation amount (should be clearly stated)
The airline usually pays for the repair but if the bag can't be repaired they usually pay according to depreciated value (not replacement value)
If your bag is damaged beyond use then you may be entitled to replacement bag
You might want to get a repair estimate, e.g. from reputable luggage retailer or luggage repair shop
If needed call the airline and follow up your claim, persistence tends to work
Most luggage manufacturers do not cover luggage abuse or mishandling by airlines.
Your travel insurance might cover damaged luggage so always check your policy. You might be entitled to benefits beyond compensation for the damaged luggage. Your insurance company may also help you pursue your compensation claim with the airline.
Few practical tips to reduce the risk of damaged airline luggage:
Avoid over packing your bag, it can cause zippers to break, handles to fall off, seams to burst, etc.
Never check in bag that cannot be properly closed, e.g. if you need luggage strap to keep it closed
Don't pack any high value or fragile items in your check-in bag
Don't check in carry-on luggage items as they are not designed to be checked in, e.g. briefcases, garment bags, tote bags and so on
Worn luggage is more prone to damage so you should replace your luggage on regular basis
You may want to replace old luggage even if it is not worn out as it may not be designed to withstand the modern automated baggage handling systems
Airlines are legally liable for damaged airline luggage but their liability is based on the depreciation value of your bag and its content, not the replacement value and there can be a big difference between those two.
Furthermore, airlines are not liable for many high-value items when checked-in, e.g. cash, electronics, jewelry, artwork, fragile items, valuable papers, etc. You should keep valuable and fragile items like this in your hand luggage.
Always have travel insurance with suitable content cover for your needs.